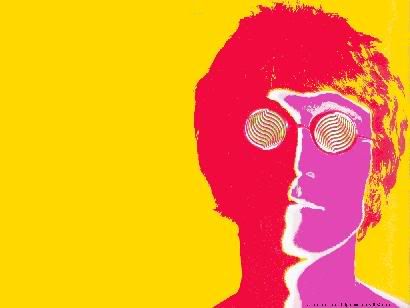 A 27 años de la muerte de John Lennon hemos oído alguna vez canciones de The Beatles o simplemente en su faceta de solista. Una de esas canciones es la de Across The Universe la cual había escuchado con la interpretación de Fiona Apple .De sus canciones, cabe destacar un sonido acústico con base en instrumentos antiguos y los arcaísmos de sus letras. Cuando la escuché me encantó mucho la interpretación que hace, después de buscar la letra y saber un poco más de ella me encuentro que fué escrita por Lennon.

Siempre me había preguntado que significaba la palabra Beatle, hasta que hoy encontré esta info: En 1960 el grupo reaparece con el nombre "Long John and the Silver Beatles", para luego probar con "The Silver Beatles" y finalmente "The Beatles". La explicación del nombre proviene de un juego de palabras del propio Lennon, que combinó Beat (ritmo) con Beetle (escarabajo).

Sobre Fiona Apple:
Sus opiniones sobre la sordidez del mundo de la música y la aceptación de los premios que éste le brinda han sido bastante criticadas. Es vegetariana estricta (vegana) y colabora con la PETA (People for the Ethical Treatment of Animals). En 1997, sus opiniones en contra del pavo de día de Acción de Gracias fueron bastante controvertidas. During this period (1998) Apple contributed covers of The Beatles' "Across the Universe" and Percy Mayfield's "Please Send Me Someone to Love" to the soundtrack of the film Pleasantville.




Fiona Apple :: Across The Universe




Letra :: Across The Universe

Words are flying out like endless rain into a paper cup
They slither while they pass
They slip away across the universe
Pools of sorrow, waves of joy are drifting through my open mind
Possessing and caressing me
Jai Guru De Va Om
Nothing's gonna change my world
Nothing's gonna change my world

Images of broken light which dance before me like a million eyes
That call me on and on across the universe
Thoughts meander like a restless wind inside a letter box
They tumble blindly as they make their way across the universe
Jai Guru De Va Om
Nothing's gonna change my world
Nothing's gonna change my world

Sounds of laughter shades of earth are ringing through my open views
Inciting and inviting me
Limitless undying love which shines around me like a million suns
It calls me on and on across the universe
Jai Guru De Va Om
Nothing's gonna change my world
Nothing's gonna change my world
:::::::::::::::::::::::::::::::::::::::::::::::::::::::::
Las palabras surgen a raudales como una lluvia infinita en un vaso de papel
Se deslizan al pasar
Desaparecen a través del universo
Charcos de tristeza, olas de alegría flotan en mi mente abierta
Poseyéndome y acariciándome
Jai Guru De Va Om
Nada cambiará mi mundo
Nada cambiará mi mundo

Imágenes de luz encima bañando ante mí como un millón de ojos
Que me llaman y me llaman a través del universo
Pensamientos serpenteando como un viento inquieto en un buzón
Tambaleándose ciegamente en su camino a través del universo
Jai Guru De Va Om
Nada cambiará mi mundo
Nada cambiará mi mundo

Sonidos de risas y sombras de tierra resuman en mi vista abierta
Incitándome e invitándome
Un amor imperecedero y sin límites brilla a mí alrededor como un millón de soles
Llamándome y llamándome a través del universo
Jai Guru De Va Om
Nada cambiará mi mundo
Nada cambiará mi mundo
The Beatles :: Across The Universe