Devon Aoki
(el cual es el título del post jejeje)
es una actriz ... (
wiki
) que ha salido en varias películas que pues me han gustado sino mucho, sí estan pasables y bueno resulta que hoy he completado la trilogía de
Rápido y Furioso,
pues la que me faltaba por ver era la parte 3
Tokio Drift
y al verla me recordó ha esta actríz la cual salío en la
parte 2
con el nombre de
Suki
la cual sale conduciendo un "auto" (nosé que modelo sea) color rosa. El motivo del por que me acordé es por el mismo título de la tercera entrega es decir por estar ahora en un ambiente oriental ... en fin.
Hace ya unos meses también ví la
movie
de
Sin City
(sé que es basada en un novela grafica de la cual no he leído es más ni sabía de esta sino es por lo que he leído por la red) así que no se bien si esta muy apegada a la versión original ... pero por lo que pude percibir de la película es que esta chida aunque debo verla de nuevo por que como que no le agarré el hilo (que por cierto no la encuentro, no sé donde chigallos la dejé, shit!!!), y claro nuevamente tenemos a esta chica en la pelicula ahora con el papel de
Miho
.
SINOPSIS
:
Bienvenidos a Sin City, ciudad de policías corruptos, atractivas damas y vigilantes desesperados. Algunos están buscando venganza, algunos redención, y otros, ambas cosas. Un universo de héroes inverosímiles que intentan hacer lo correcto. Sin City es una ciudad que vive entre la luz y la oscuridad, llena de personajes singulares. Está por ejemplo Marv (Mickey Rourke), un superviviente que busca vengar la muerte de su único amor. También está Dwight (Clive Owen), un investigador privado que intenta dejar sus problemas atrás. Después de que un policía sea asesinado, Dwight no parará ante nada para proteger a sus amigos. Finalmente, está la historia de Hartigan (Bruce Willis), el último policía honesto de Sin City, que va tras la pista de una joven en manos del sádico hijo de un senador... con resultados inesperados
Acabo de leer que también sale en un par de peliculas de no he visto, una de ellas (esta solo oí de su existencia) se hace llamar
D.E.B.S.
que por la sinopsis se me antoja verla y más por las nenas yomi-yomi jeje "
D.E.B.S. es una escuela de espías en el que las chicas usan coquetas faldas como uniforme y sus tareas son hacer diferentes misiones de espionaje. En esta ocasión, al escuadrón estrella de la escuela, conformado por cuatro espías llamadas Max, Amy, Janet y Dominique, le es asignado investigar a Lucy Diamond, una villana legendaria, que deja una estela de diamantes por donde pasa. Así, en esta misión, Amy sobrevive a un encuentro con Lucy, cosa nunca antes vista
"y la otra es
DOA: Dead or Alive
(que de ésta solo sabía del juego para xbox.360) ... mmm tendré que verla pues hay varias buenas razones para checarla.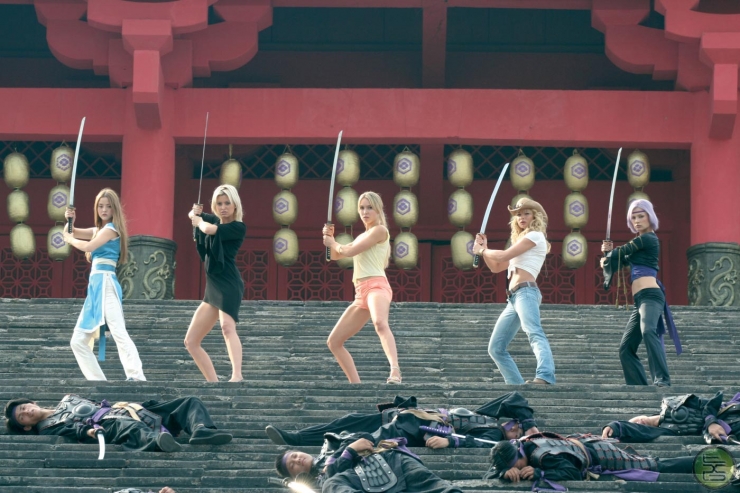 Filmografía (
?
)
El caso en sí es que cuando salío el vídeo del tema del grupo de The Killers llamado Bones esta chica sale en dicho vídeo, además de gustarme bastante los temas de "los killers" yeahhh!!!

Vid:



(traducción)
Come with me.
We took a back road.
We're gonna look at the stars.
We took a backroad in my car.
Down to the ocean,
it's only water and sand
And in the ocean we'll hold hands.
But I don't really like you, apologetically dressed in the best, but on a heartbeat glide.
Without an answer, the thunder speaks for the sky, and on the cold, wet dirt I cry.
And on the cold, wet dirt I cry.
Don't you wanna come with me? Don't you wanna feel my bones
on your bones?
It's only natural.
A cinematic vision ensued
like the holiest dream.
It's someone's calling?
An angel whispers my name,
but the message relayed is the same:
"Wait till tomorrow,
you'll be fine."
But it's gone to the dogs in my mind.
I always hear them
when the dead of night
comes calling to save me from this fight.
But they can never wrong this right.
Don't you wanna come with me? Don't you wanna feel my bones
on your bones?
It's only natural.
Don't you wanna swim with me? Don't you wanna feel my skin
on your skin?
It's only natural.
(Never had a lover)
I never had a lover
(Never had soul)
I never had soul
(Never had a good time)
And I never had a good time
(Never got cold)
I never got gold.
Don't you wanna come with me? Don't you wanna feel my bones
on your bones?
It's only natural. x3
PS. Esperare la parte 4 de Rápido y Furioso pues según la propia película y aquí se hará el regreso del personaje Dominic Toretto y aquí unos buenos wallpapers con autos.