Hace exactamente una semana que me compré el
Guitar Hero III: Legends of Rock
para la
xbox-360
... ya venía deseando este juego por que (y estoy seguro que muchos lo hacemos) ya no quería seguir "tocando" con la "
Air Guitar
" jejeje todas esas canciones rasposas y no tanto que me encantan (soy un artista frustado ... uyy sí!!!).
Después de buscarla en un supermercado (donde solamente tienen el
Rock Band
-que por cierto no me alcanza el varo- y varios juegos ... mmmm pero por el momento no quería gastar mi dinero en algún juego que no fuése éste así que me resistí a la tentación) y que solo veía la caja de exhibición que dan para dichos lugares donde explicítamente dice "
No for Sale
" regresaba desilucionado a mi casa.
Procedí entonces a buscar por la red el precio del
GH3
checando la página de
Game-Planet
y viendo las mejores ubicaciones para mi caso ... entonces ví que
hay una
en Pericoapa así que me lancé justo hacía allá, anduvé recorriendo la plaza sin encontrar lugar semejante solo veía los clásicos locales de juegos (que ignoro si son autorizados) ... fue cuando decidí preguntar por el
GP
de ahí ... le pregunté a
una especie de guardía
que resguardaba un farmacia (o no sé qué chingallos era ni me dí cuenta).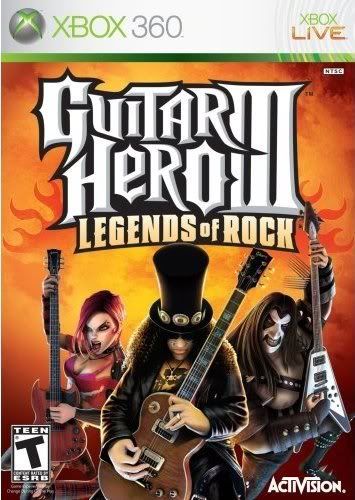 F: Dísculpe ... ¿un Game-Planet por estos locales?
G: Mmmm ... perdón?
F: Un Gueím - Planet ... mmm de videojuegos (procedí a hacer ademanes con mis manos simulando que tenía un control de consola, para que me entendiera mejor)
G: Ahhh!! ... pues hasta el Cinepolis
F: Ok!! (no mams esta bien lejos ... nel)
Así que salí de ahí y obvio ... estaba ante mis ojos ... Galerias Coapa (asshhh por que no me dirijí entes ahí ... pendejo de mí) crucé el puente, me adentré, me ubiqué con ayuda del plano llave y subí hacía mi destino
final
, finalmente llegué y estuvé checando los juegos ... tratando de jugar (
putamadre
no sirve ...
fuck
!!!) ya compré lo que quería y rápido me regresé a casa a probar mi nueva adquisición. ... ... No quise comprarlo en Pericoapa por que como que no me dió confianza comprar la "guitarra" ahí jeje.
Llegué a probarlo ...
yujú!!! que chido
(aún estoy verde con esa
madre
pues
la neta si te quita un
chingo
de tiempo, pero esta chido) de hecho ya logré desbloquear la mayoría de las canciones (por que no me sirvieron
los trucos
que encontré en la
intershit
para desbloquear todas las rolas) y bueno entre estas canciones hay unas (que son las que voy a postear) que no las había escuchado y estan bien
chingonas
...
check it
!!!
Empecemos con
Sonic Youth
y su canción
Kool Thing
... después viene
White Zombie
con su
Black Sunshine
que esta
chingonsísima
!!!! yeahh!!!! ... de hecho la selección de canciones esta
pocamadre
, hasta ciertas canciones de verdadero antaño que no había escuchado ya me estan latiendo ... que chido!!! .... Y
surfeando
en la red me encontré esta magnifica página donde te puedes
bajar el soundtrack del juego
, así que qué esperas y bajatelo ya!!!
cool lyric:
Kool Thing sittin' with a kiddie
Now you know you're sure lookin' pretty
Like a lover not a dancer
Superboy take a little chance here
I don't wanna, I don't think so
I don't wanna, I don't think so
Kool Thing let me play it with your radio
Move me, turn me on, baby-o
I don't wanna, I don't think so
I don't wanna, I don't think so
...siguele
aquí
White Zombie (

wiki

) fue una banda de industrial groove metal, nombrada después del film de 1932 White Zombie, la cual fue protagonizada por Bela Lugosi. Establecidos en New York, originalmente fue una banda de Noise Rock en la misma categoría de Sonic Youth. Thurston Moore de Sonic Youth y el icono del grunge Kurt Cobain han profesado ser fanáticos de sus
primeros trabajos.

White Zombie fue conocido por combinar el metal con los riffs de guitarra (como en "Super-Charger Heaven") sobrecargado de liricas fuertemente influenciadas por los filmes de horror y una estética pseudo-satánica. A diferencia de otras bandas metal de los '90, White Zombie era casi exclusivamente una banda de "fantasía", escribían canciones no sobre de la vida real, sino sobre fantasías de horror surreales.
chequén la lira:
(Gripping the wheel, his knuckles went white with desire! The wheelsof his Mustang exploding on the highway like a slug from a .45. True death: 400 horsepower of maximum performance piercing the night... This is black sunshine.)
Yeah! Move me in the silence baltic motorway hang me on the edge before I fall away
- Apocalypse is dawnin' action on the mile. A "can-do" revolution -
Earth to the river (nile) Sweet'n the ride - Black Sunshine - Sweet'n the ride -
Yeah - Sweet'n the ride - Black Sunshine - Sweet'n the ride - Yeah! Cry a river "cosmic" -
Moon in Scorpio, feel her body "breathe" - Acid radio -
Tell me that you like it - when I'm going down! Tell me that you like it -
Move to the speed of (sound) Sweet'n the ride - Black Sunshine - Sweet'n the ride -
Yeah - Sweet'n the ride - Black Sunshine - Sweet'n the ride